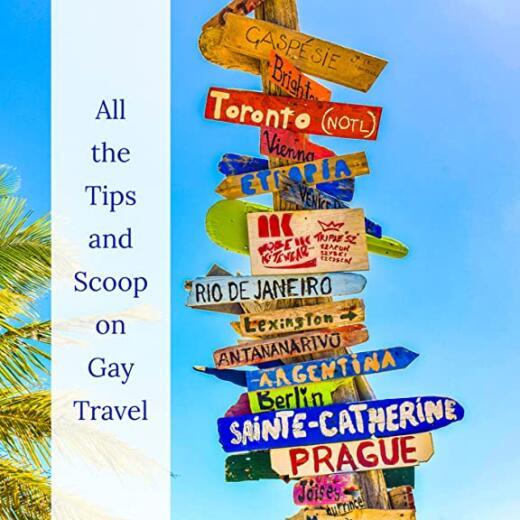 Having deep knowledge about gay-friendly places is always helpful.
You should keep reading this article, which focuses on the best gay travel books and guides, whether you need specific direction or inspiration for where to go next as a gay traveler or you want some in-depth knowledge about the specific location and how the locals treat the gay community and what the rules and regulations are.
Keep in mind that it is always good to travel with a tour guide so that you won't get lost or stuck on a certain road or location.
Make sure to have the most recent editions or versions of the books and manuals to keep up with any changes in places that have occurred over time.
A couple of Men – Ein Männerpaar reist um die Welt (German)
The gay couple who travels the world is the focus of the book. Because the couple takes the reader with them by sharing personal experiences, the book is very helpful for people who want to visit the USA and other important countries including Iceland and Japan.
The book takes the reader on emotional journeys, including guiding about locations like the USA, Iceland, Japan, and South Africa. They also share with you some very intimate details about our romance, their early years, our upbringing, and our coming-out experiences. We hope you like our project as much as we do because we are quite proud of it.
The Gay Guide: New York, San Francisco & Paris
Every issue of this traveling book series focuses on a city that is regarded as exceptionally LGBT and gay-friendly. Three editions in total have been released, each having an analyst who lists the top nightlife spots, dining establishments, and tourist attractions in the city in question. These travel guides for LGBTQ+ people offer incredibly helpful advice on everything you need for your upcoming trip, including transportation alternatives, cultural insights, and safety recommendations.
Eat, Gay, Love. In Memoir – Calum McSwiggan
Calum McSwiggan is always here to take you to the streets of European cities. So even if you do not have a chance to practically visit the best gay tourist attractions, you just have to go through this book and you will feel as if you are visiting those places. The imagery used in this book is very strong and will keep you involved through the reading process. Room Berlin and Thailand are the three most frequently discussed gay-friendly places in this book that revolve around the Epicurean lifestyle of gay people.
Real Queer America: LGBT Stories from the Red States – Samantha Allen
One of the most multicultural nations in the world, the United States actively promotes members of all communities, including the LGBTQ community. However, it is also true that not all US states extend a warm welcome to the gay community. You should read this book if you want to understand how LGBT people feel about the way they are treated in the red states, as well as the emotional and physical difficulties they go through. It has fascinating anecdotes about the states that do not support the LGBT community and narratively addresses everything.
The book unintentionally explains gay people's rights and how they feel when they travel to places where they are not welcomed with open arms.